Tracy O'Leary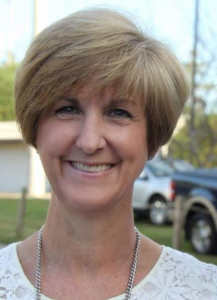 Tracy and her husband Pat have enjoyed living in Peachtree Corners for 28 years and, with their three children (Michael 30, Colin 28 & Maggie 22), celebrated over 20 years of "first days" in the Norcross Cluster schools.  Living in a community that has given so much to her family, Tracy has been passionate about and humbled to give back.
Tracy began serving at Simpson Elementary School as a volunteer in the Media Center, and she served in various positions on the PTA board including Treasurer, VP and Chair for the Simpson Singers 5
th
grade production.  She followed her children to Pinckneyville Middle School and continued to serve in executive and committee positions on the PTSA.  When her youngest started high school at Norcross, Tracy realized that the need for parent volunteers at the high school level was much greater than in the lower schools and made it her goal to give as much as possible in the areas where she was needed most.  She joined the board of the Norcross High School Foundation for Excellence in 2014, serving as Treasurer (3 years), Co-President, Liaison to the After School Matters program and advisor to the Treasurer.  In addition, Tracy completes the annual audit and required tax filings.  In addition to serving on the NHSFE board, Tracy served 4 years as Norcross PTSA membership chair and 4 years as president & treasurer of the PHD Running Club (NHS cross country & track & field booster club).  Tracy uses her expertise as a CPA to complete audits for a number of Norcross Cluster groups including Simpson PTA, Pinckneyville PTSA, Norcross HS PTSA, Paul Duke Stem PTSA, NHSFE, and booster clubs for Soccer, Lacrosse, Volleyball, Orchestra, Baseball, Swim and Dive, and XC/Track and Field.
Tracy has served in a number of volunteer positions in the Peachtree Corners community.  She served for 4 years as Volunteer Chair for the Fields Club Swim Team and then served 6 years as Co-Council.  Since 1997, Tracy has been an active volunteer at Mary Our Queen Catholic Church and St. Brigid Catholic Church teaching religion classes, mentoring youth and co-chairing the parishes' Christmas service projects.  For the past 7 years, Tracy has also served as treasurer for the Peachtree Corners Community Bible Study group.
A practicing CPA for over 30 years, Tracy received her BBA in Accounting from the University of Georgia and a Master of Taxation from Georgia State University.  Since 1985, she has worked, both full and part-time, as a tax consultant in public accounting and private industry.