May 3, 2013
Nearly 500 Attend Foundation's Annual Spring Gala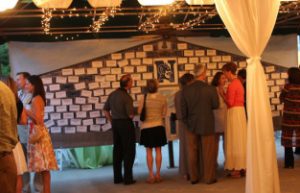 Three honorees were also recognized at the Norcross High School Foundation for Excellence fund-raising event.
On a clear spring evening Norcross High School supporters crowded the registration table to collect their tickets and name tags for the Annual NHS Foundation's Spring Gala held at The Fields Club on Friday.
It's the biggest event of the year for the NHS Foundation of Excellence which raises funds to support the school's academic, athletic and art departments.
Some 465 people attended the outdoor event that was staged under the stars at the Peachtree Corners subdivision's pool and recreation area with live music provided by resident Terry Evans and his six-piece band, Terry Lee & the GT's.
"It was a very successful event Friday," said Weare Gratwick, one of the foundations board members. "We raised over $96,000 this year; a significant increase over the $81,500 we raised last year."
And along with an opportunity to contribute to the school, the foundation also recognized three people who have been a significant part of the school's history.
This year, Richard Southerland, a psychology teacher for many years and who is involved in the school's Relay for Life program, was one of the honorees. "The first day I stepped into the classroom, I knew I was where I was supposed to be," said Southerland who taught at the old Beaver Ruin campus for 18 years. "NHS is the best kept secret in Gwinnett."
Susan Stripling, was honored posthumously. A former English teacher, she started teaching at NHS in 1974 and has an elementary school named after her, Stripling Elementary School in Norcross. Her daughter Taylor and son Todd, both graduates of NHS spoke in her behalf.
"Thank you, we are so pleased that Mama is being honored," said Taylor Stripling. And Todd remembered fondly as a student in her high school English class he called her "Mama" and so did all of the other students.
Also recognized for her years of service, was Cass York who began as a teacher before serving as administrative assistant for 18 years serving with three principals. Jonathan Patterson, Judy Rogers and Mary Ann Sharon.
"It was such a pleasure to work with all of you," York said. "It's really an honor. "I could not have picked three better bosses to work for."
Part of the event includes the opportunity for supporters to buy bricks, which are actual wishes that teachers and departments submit for supplies not funded by the county.
"We sold 232 "bricks" this year totalling $23,363. Last year we sold 215 bricks and raised $18,471," said Gratwick. "The balance of the funds raised from the gala goes into the foundation's budget for next year which funds our mission to support academics, the arts and athletics including classroom grants in the fall, the After School Matters program and various capital improvement projects."
The evening also included a silent auction and raffle. California Pizza Kitchen, located in Peachtree Corners, sponsored the gala.
Visit the foundation's website for more information.
See complete Patch Article.
---