November 11, 2013
Norcross High School Foundation Awards $20,000 in Teacher Grants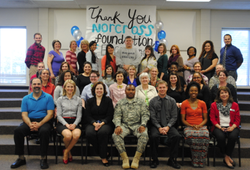 The greatest opportunity to impact student learning is in the classroom. Thanks to the generous contributions from parents, faculty, alumni, community members, and the business community, the Norcross High School Foundation for Excellence is pleased to award $20,000 in grants to 50 teachers in 12 departments. This is an increase of $5,000 over what was given in 2012.
Committed to its partnership with Norcross High School, the Foundation continually supports academics, arts, and athletics, benefitting the entire student body and fostering a culture of excellence. In times of tight budgets, these grants provide teachers with vital resources to enhance student learning.
To learn more about the history of the Foundation, its mission, how to become involved, and to see a comprehensive summary of all the grant-funded requests, visit the Foundation Website at www.norcrosshighfoundation.org and like us on Facebook at www.facebook.com/nhsfoundation.